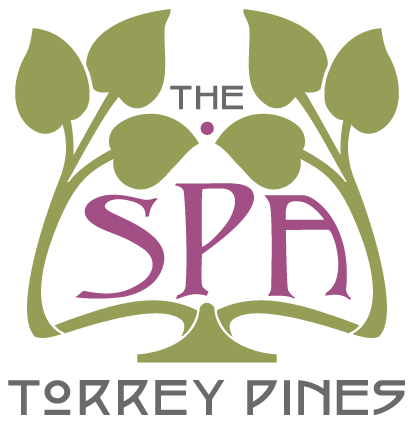 Spa Services
All spa treatments and rituals are designed with wellness in mind and are performed to meet the needs of each individual. In addition to fourteen treatment rooms, there are two locker rooms (men's and women's), and a relaxation lounge with a fireplace.
Spa guests visiting Monday - Thursday can enjoy complimentary use of the fitness center and outdoor pool for 30 minutes prior to your appointment and 30 minutes after your service is complete.
Walk-ins are currently unavailable. Schedule an appointment at (858) 777-6690
Please note that guests must wear face coverings the entire time in the facility with the exception of during facial services.
On a quiet perch in view of coastal cliffs that tower above the Pacific Ocean, The Spa at Torrey Pines is a destination defined by relaxation and revitalization. Experience the serenity of the spa with an array of massages, facials, body wraps, and nail care treatments.
Due to current circumstances, we are not able to offer guests access to the sauna, steam, and inhalation rooms.
HOURS:
Spa Services: 9:00 a.m. - 6:00 p.m.
Spa Boutique: 9:00 a.m. - 6:00 p.m.
Fitness Center: 8:00 a.m. - 5:30 p.m. (limited capacity)
SPA FACILITIES
14 treatment rooms
Men's and Women's locker rooms
Relaxation lounge with a fireplace
Cardio/strength room features state-of-the-art treadmills, elliptical trainers, stationary cycles, and weight-training equipment


Monday - Thursday | Available for use 30 minutes before and after your spa appointment

Outdoor grand-scale pool and whirlpool


Monday - Thursday | Available for use 30 minutes before and after your spa appointment
Enjoy an unparalleled massage in La Jolla at The Spa at Torrey Pines. Our massage therapies employ various methods of manipulation to relieve stress, muscle tension and fatigue. Circulation is improved, which helps to induce relaxation.
AROMATHERAPY
An ancient healing art dating back to 4500 BC. Choose from one of our specialty blends of aromatherapy oils to personalize your massage experience. The combination of healing oils and massage will encourage deep relaxation and release tension stored in the body.
50-minutes $165 | 80-minutes $245
TORREY PINES SIGNATURE MASSAGE
Find your bliss with a personalized massage incorporating our signature lemongrass and sage oil. Simply describe your perfect massage and our expert therapists will take care of the rest.
50-minutes $165 | 80-minutes $245
PRENATAL*
Encourages relaxation and focuses on reducing the many stressors a woman's body encounters during pregnancy. Prenatal massage is also highly beneficial for your baby, who will feel the relaxing effects of massage within the womb. This massage uses pillows and is performed primarily while you rest on your side for comfort.
*This treatment is offered in the last two trimesters only.
50-minutes $165
Our facials are customized to personally address your skin care needs and achieve vibrant, healthy skin. After a detailed consultation, your skin care specialist will design a specific home care program to maximize your spa experience and provide long-term benefits.
PERSONALIZED FACIAL
Skin care at The Spa at Torrey Pines is a truly personalized experience. We've selected a range of product lines that can address all of your concerns, including fine lines, dehydration, redness, hyperpigmentation, environmental damage and sensitivities. Our products include marine botanicals, organic ingredients, and cosmeceuticals. A post-treatment home care program will also be provided in order to maximize your spa experience and provide long-term results.
All 50- and 80-minute facials include face, hand, and décolleté massage. Indulge in the 80-minute experience and a foot massage with warm towels is also included.
50-minutes $165 | 80-minutes $245
FACIAL ENHANCEMENTS
The perfect addition to 50- and 80-minute facials.
Add-on: $30
ILLUMINATING EYE TREATMENT
This treatment will help correct dark circles and improve the appearance of fine lines around the delicate eye area.
INTENSIVE AGE-DEFYING DECOLLETE TREATMENT
This treatment will target age spots and creping of the skin in the delicate décolleté area. It will help brighten and even out skin tone, as well as help redensify to minimize crepiness.
REJUVENATING HAND TREATMENT
This treatment will aid in softening, nourishing and brightening the hands.
Body wraps help your body balance itself by relieving muscle tension and promoting natural detoxification and hydration.
NOURISHING STEM CELL WRAP
A nourishing wrap designed to revitalize dehydrated, aging and sun-damaged skin with grape stem cells, spirulina, aloe and white tea. This experience begins with a gentle dry brush exfoliation to remove dead skin cells, increase circulation and promote lymphatic flow. Next, warm coconut Argan oil is slowly painted on for ultimate hydration before you are cocooned in the wrap. As a finale, a calming scalp massage brings you deep into bliss.
50-minutes $165
RESURFACING BODY WRAP
The ultimate in total body resurfacing using natural extracts and rich infusions of vitamin D to increase clarity, hydration and illumination of the skin. A 100% pure cane sugar glycolic exfoliation assists in the removal of dry skin so the body can soak up all of the rich nutrients in the mask. As you lie cozy in your wrap, an aromatic scalp massage is performed. The treatment ends with a luxurious application of olive, fig and shea body butter leaving you feeling renewed, hydrated and ultra-smooth.
80-minutes $245
REJUVENATING CITRUS MANICURE
The deluxe citrus "facial for hands" is the ultimate anti-aging treatment. A two-step process utilizing citric acid and a firming peptide complex will help restore skin to a more youthful appearance. Next, a warm paraffin treatment and relaxing arm and hand massage restore hydration and a radiant glow to the skin. Top off with the perfect polish for beautiful hands.
50-minutes $70
SHELLAC MANICURE
A classic manicure complete with a shellac finish. This treatment includes cuticle care, nail shaping and a luxurious hand massage.
*Removal of gel or shellac polish will require additional time.
50-minutes $80
BOURBON BUBBLER MEN'S PEDICURE
A pedicure just for men. Sit back, relax and let our experts soothe your tired soles. Feet are loosened up in a warm Nectar Milk soak before you're buffed and scrubbed with a spike of molten bourbon. A warm wrap and decadent massage reinvigorate and hydrate the legs and feet.
45-minutes $80
ULTIMATE SPA PEDICURE
Feet that require some extra TLC are brought back to life with a soothing milk soak followed by a vigorous exfoliation incorporating lavender and sea salt. Calluses are then gently smoothed away with a natural honey heel glaze before the toes are polished to perfection and you're ready to face the world again.
45-minutes $80
NATURE WALKS
Enjoy a nature walk through Torrey Pines State Natural Reserve
Friday - Sunday at 9:00 a.m. 
PRIVATE YOGA INSTRUCTION
Similar to our Yoga Flow class but just for you and your friends. This class can be customized to your level of experience. (by appointment only - please call the spa to schedule)
80-minutes $150 (1-2 people) | 80-minutes $200 (3-20 people)
All prices, services and hours of operation at The Spa are subject to change without notification. Please call to confirm current rates, services and hours of operation. Our spa reservationists are here to assist you in planning the spa experience that best suits your individual needs. We will be waiving cancellation fees, if cancellation is due to illness or exposure to the COVID-19 virus. As your appointment is reserved especially for you, we ask that, whenever possible, you call the spa within 24 hours of your appointment if you do need to cancel or reschedule. A 20% service charge will be added to each spa service. The service charge is shared among the therapist (18%), Spa Attendants and Receptionists (2%). At your discretion, you may leave an additional gratuity for your therapist.
Pregnancy: If you are pregnant, you may want to avoid treatments using deep pressure as well as hydrotherapy and treatments involving heat. Also, please notify our spa reservationist of your pregnancy when booking your treatment. Please consult your physician prior to scheduling your appointment.